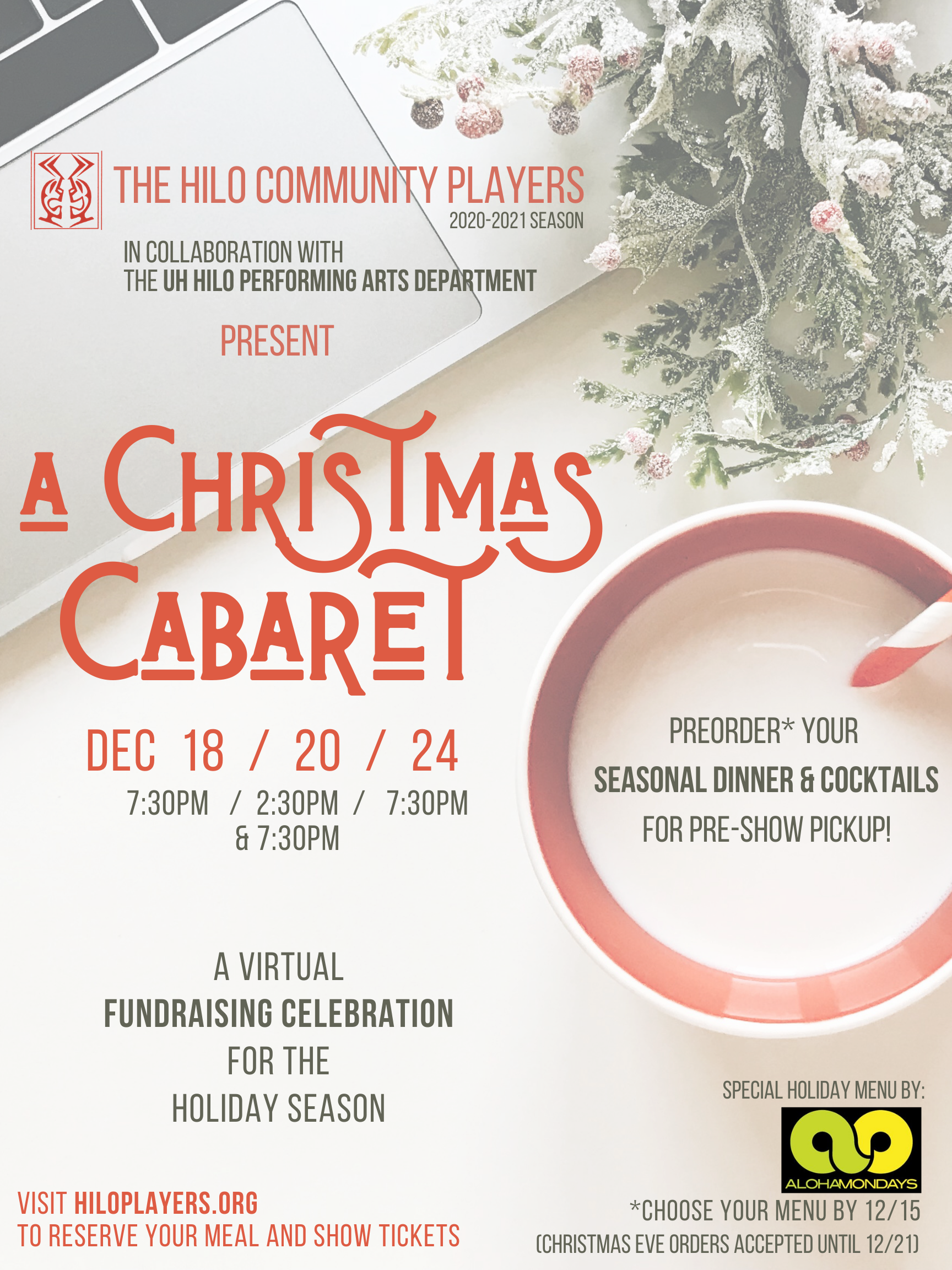 You're invited to the virtual holiday celebration of the season! In the spirit of togetherness and safety, the Hilo Community Players are taking their annual Christmas Cabaret online with the help of the UH Hilo Performing Arts Department. Log on and lend your support for local performing arts while enjoying classic offerings from some of Hilo's all-time favorite talents; Norman Arancon, Jackie Pualani Johnson, Michael Stevens, Jeri Gertz and Erin Smith are just a few of the names you'll see in this exuberant musical fundraiser. Get into the season with four different showtimes:
Friday, December 18th at 7:30pm
Sunday, December 20th at 2:30pm and 7:30pm
Christmas Eve – Thursday, December 24th at 7:30pm
As for the Players' yearly tradition of mouthwatering holiday-themed food and drinks to enjoy during the entertainment? HCP has paired with beloved Hilo restaurant AlohaMondays to offer three classic holiday menus with a local twist—including meat and vegetarian options—as well as specially-crafted cocktails for the 21+ crowd. The delicious, parbaked dinner and drink items will be available for safe pickup a few hours before each show. But hurry—to ensure enough inventory for everyone made with the freshest ingredients available, dinner orders for the 18th and 20th must be placed no later than 10am on 12/15, while orders for the 24th must be placed no later than 10am on 12/21.
Hilo Community Players
Hawai'i Island's Oldest Theatre Company
The Hilo Community Players have been doing theatre since 1938! Through the presentation of amateur and professional theatre, youth theatre and various special events, the Hilo Community Players strive to organize, promote, and conduct an inspirational, engaging program of quality drama throughout the year.