Hilo Community Players announce AUDITIONS for
Music and Lyrics by Joe Iconis
Based on the Novel by Ned Vizzini
Music Direction by Rachel Edwards
Choreograhy by Nadia Schlosser
AUDITIONS will take place on the mainstage of the UH Hilo Performing Arts Center (200 W. Kawili St., Hilo)
Thursday, January 19, 2023
Starting at 6:00 pm
 &
Saturday, January 21, 2023
Starting at 3:00 pm
*You may attend both days, however only one day is required*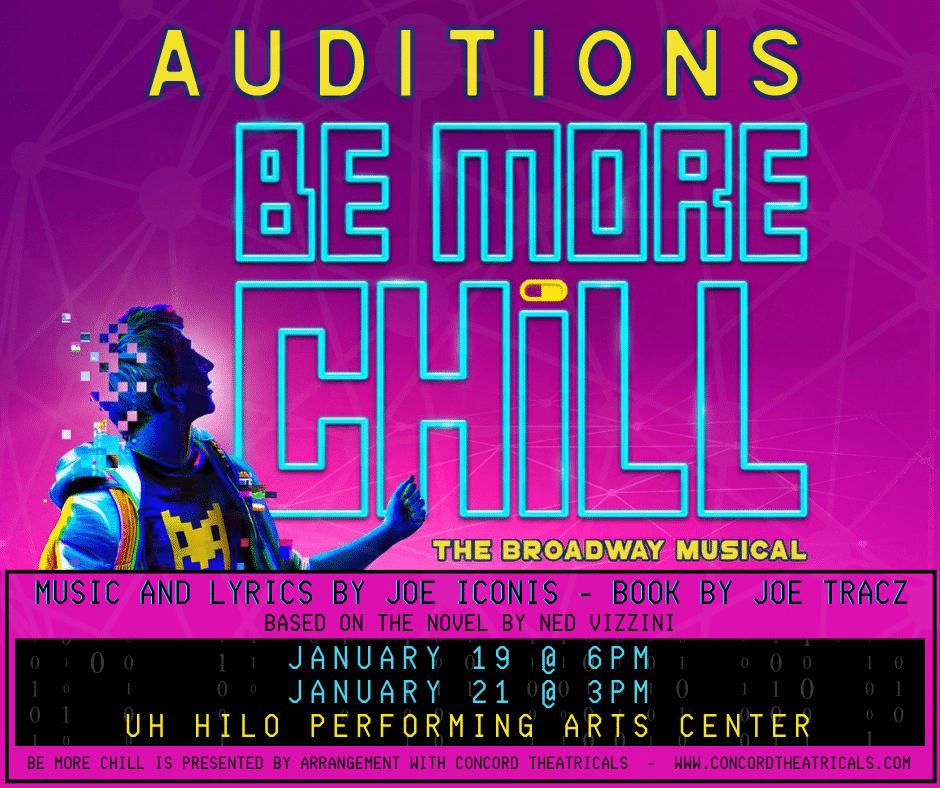 Roles are available for teens and adults.
Please come prepared with at least 16 bars of a song which best shows your vocal abilities. Arrive dressed to move for a dance audition and expect readings from the script.
Resumes and headshots are encouraged but not required.
You must arrive by or before the stated audition start time. Please contact us at least 5 days prior to audition if you require special accommodations.
Performance Dates: April 21-29, 2023
Available Roles:
Jeremy Heere – Awkward high school junior
Christine Canigula – High school theater girl, sweetly dorky
Michael Mell – Jeremy's music-obsessed best friend
Jake Dillinger – High school awesomeness personified
Rich – The school bully
Chloe – The hottest girl in school, crass and confident
Brooke – The second hottest girl in school, insecure about it
Jenna Rolan – That girl who knows everyone's business
Jeremy's Dad – Never wears pants
Mr. Reyes – The schools drama teacher who is full of drama
Scary Stockboy – A scary stockboy

The Squip – The supercomputer in Jeremy's head
High School Students – ensemble