Hilo Community Players announce AUDITIONS for
An LBGTQIA2S+ Pride Variety Show
AUDITIONS will take place at the UH Hilo Music Rehearsal Room (PB-8)
Tuesday, April 25, 2023
Starting at 7:00 pm
 &
Wednesday, April 26, 2023
Starting at 7:00 pm
*You may attend both days, however only one day is required*
Hilo Community Players announce auditions for Queer & Questioning: An LBGTQIA2S+ pride variety show, sponsored by UH Hilo Performing Arts Center!
Join us on April 25 or 26th at 7pm in the UHH Music Rehearsal Room to show off what you've got! Please arrive by 7pm.
All are welcome to audition! We are open to all talents you have to showcase, and we will also you to participate in a short singing, dance and acting audition.
A pianist will be provided. Please bring sheet music for a selection (at least 16-bars) of your choosing to showcase your voice. Come dressed for movement and prepared to read, as well as to showcase any other talents you'd like us to see!
Selected performers must be available June 9, 10, 16 & 17.
Hilo Community Players announce AUDITIONS for
Ho ka Hū: No Ack
(a teen adaptation of Shakespeare's Much Ado About Nothing)
written by Justina ʻŌlalimākiaikalauaki Mattos
AUDITIONS will take place at Paradise Performing Arts Center (29 Shipman St. #202)
Tuesday, May 2, 2023
Starting at 3:00 pm
 &
Thursday, May 4, 2023
Starting at 3:00 pm
*You may attend both days, however only one day is required*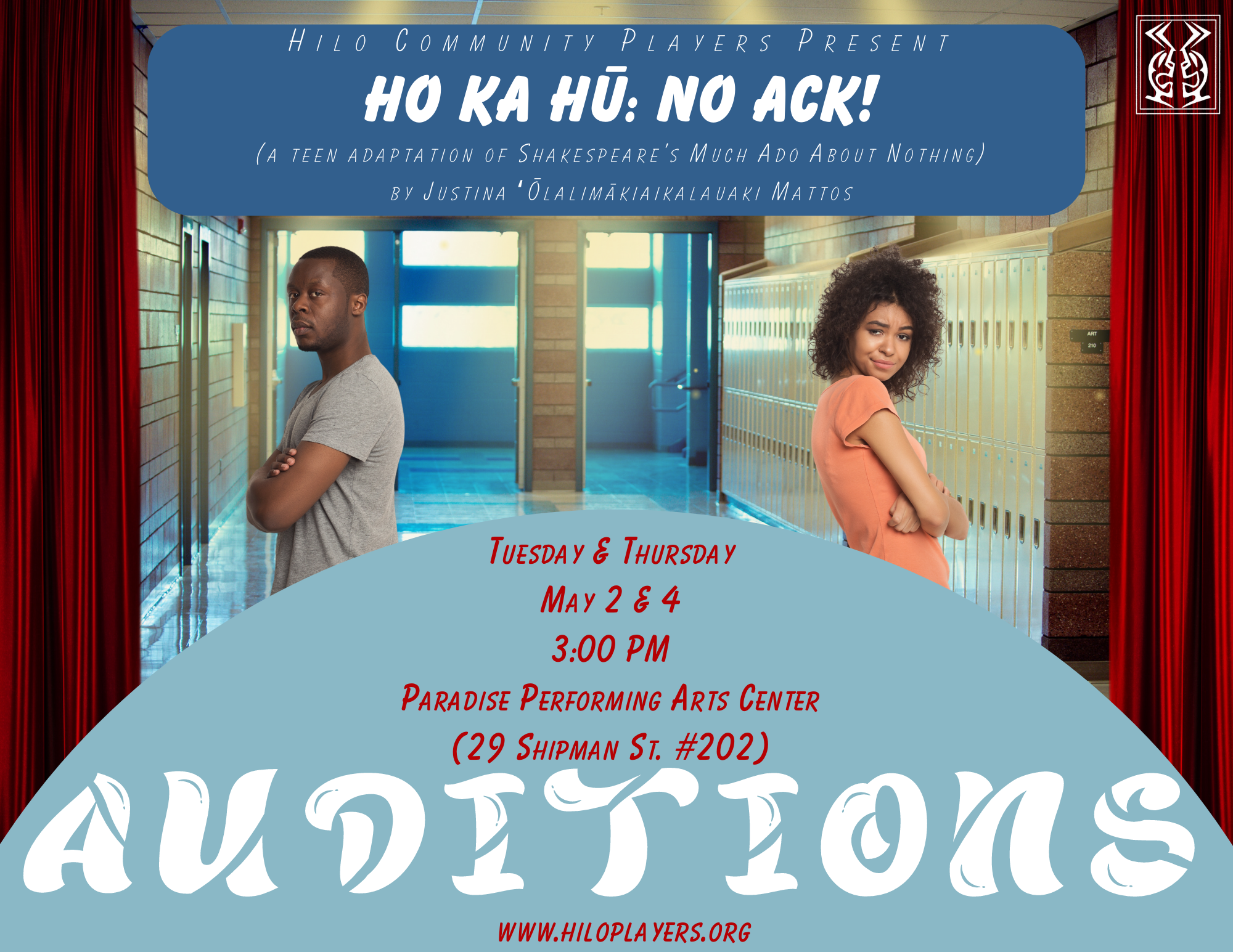 You are invited to audition for Hilo Community Players annual "Kid-Shakes" production May 2 & 4 from 3pm at Paradise Performing Arts Center in Hilo.
All ages are welcome. No preparation or experience is necessary. Please arrive on time and dress comfortably for movement.
Kid-Shakes is part of our Shakespeare in the Park Festival, and is the presentation of a Shakespearean adaptation design specially for keiki audiences!
Rehearsals will be in May and June. Performances take place in July.