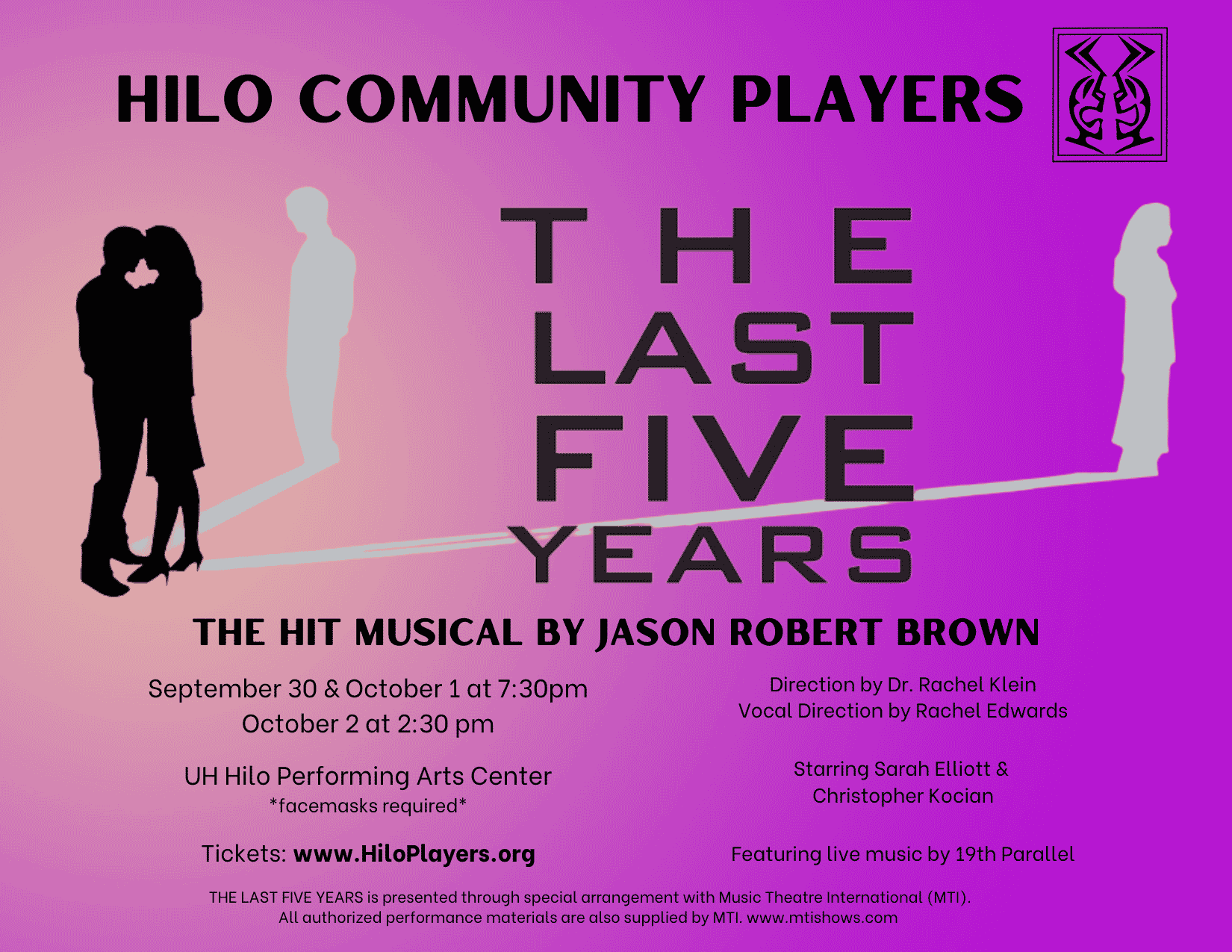 Get your tickets in advance! Tickets $5 more on the day of performance. Facemasks are required in the theatre.
Directed by Dr. Rachel Klein
Vocal direction by Rachel Edwards
Live Music from 19th Parallel featuring Big Island musicians Kanako Okita, Kelly Stuart & Cathy Young.
Starring Sarah Elliott as Cathy and Christopher Kocian as Jamie.
This poignant musical explores the last five years in the lives of Cathy, a struggling actress, and Jamie, a young novelist. Through powerful songs and brilliantly woven scenes, the show is a tell-all through the ups and downs of Jamie and Cathy's relationship.
The show also heralds Hilo Community Players return to indoor theatre spaces for the first time since the beginning of the pandemic. Enduring since 1938, as a local East Hawai'i non-profit, HCP has adapted to every challenge over the years, including most recently performing all shows during the pandemic outdoors. It is with great excitement that HCP returns to the luxury the indoors with the comfortable seating and air conditioning of the UH Hilo Performing Arts Center.
Facemasks are required. With no assigned seating there will be room to socially distance for those audience who desire space around them.
Over the years HCP and UHH have fostered a wonderful and collaborative relationship. Mahalo to the UH Hilo Performing Arts Center and Department for supporting this production.
We provide access to our activities without regard to race, color, national origin, age, sex, gender identity, sexual orientation, religion, or disability.
If you require reasonable modifications due to disability, please call Erin at ‪(442) 268-0891‬ ten working days prior to our event.